Courses are offered through the Professional Association of Diving Instructors (PADI), Scuba Diving International (SDI) / Technical Diving International (TDI), and the Professional Scuba Association International (PSAI). Materials are provided to students at least two weeks before class. This allows time to review, contact the instructor with questions, and be ready for your class.
The Open Water (OW) course consists of one day of academics on the fundamentals of diving, one day of pool sessions to reinforce that understanding, and four open water dives over two additional days, usually the following weekend. After completing this training, you are then a certified OW Diver! If you're not sure about taking the plunge into a full OW certification, consider the Discover SCUBA Diving course, which is a half-day introduction in a confined water environment. School, scout, and youth groups are welcome. We firmly believe in supporting our youth and introducing them to the exciting underwater world. Parents are always welcome to watch or participate. If you are "out of practice", consider the SCUBA Review course. We cover the basic skills you've learned in your OW class and you gain confidence to dive on your own again.
The Advanced Open Water (AOW) course consists of five dives over two days. A Deep and Navigation dive are required, and a boat dive is encouraged to meet the Deep dive requirement. You can choose three remaining Adventure Dives which will introduce you to several other exciting diving opportunities. With instructor approval, any of these five dives could apply toward the requirements for a specialty certification.
Enriched Air (often known as NITROX) is a very popular academic-only course, which enables longer bottom times and can be completed in one evening. If combined with the Advanced Open Water course, a discount is available.
For those interested in refining their skills and being prepared for diving accidents, consider the Rescue Diver course. This is a somewhat physically and mentally demanding course, which teaches you how to be prepared in an emergency for self-rescue or for a fellow diver.
If you are interested in diving professionally, the Divemaster program is your first step. You'll work closely with the instructor, assist with classes, and learn many techniques to improve your diving skills. This course will delve into additional details on diving physiology, physics, equipment, and other topics.
Further your interest with several other recreational specialty courses: Sidemount, Wreck, Hunter (Spearfishing) & Collector, Deep, Night/Limited Visibility, Navigation and Advanced Navigation, Drysuit, Search & Recovery, Boat, Digital Underwater Photographer, Peak Performance Buoyancy or Advanced Buoyancy Control, Skin Diver, and others.
Solo Diver or Self-Reliant Diver specialty! This course recognizes there are times when OW divers wish to be independent. Learn why redundancy in your equipment is important and how to handle emergencies on your own.
Students who are AOW divers, a Rescue Diver, and earn five specialty certifications, and have logged over 50 dives, receive the distinctive PADI Master SCUBA Diver rating. This is the highest recreational rating available and is a noteworthy accomplishment.
PADI Recreational Diver Course Flowchart: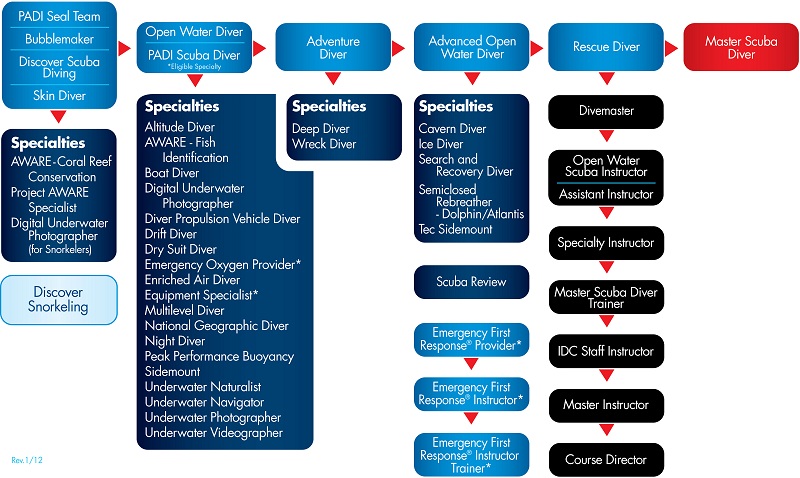 SDI Recreational Diver Flowchart: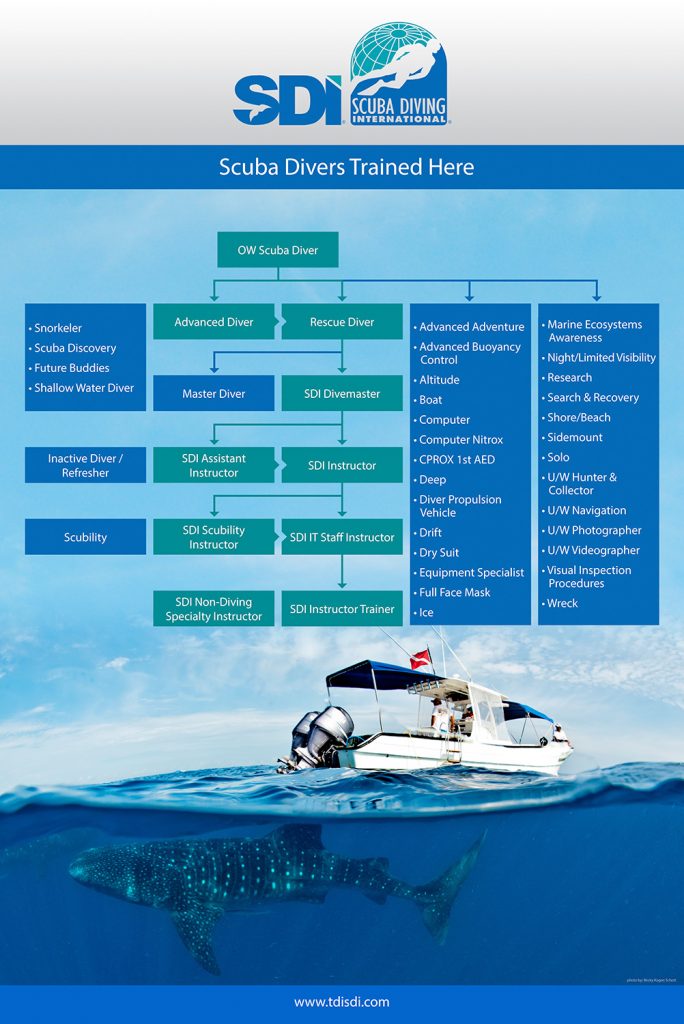 PSAI Sport Diver Course Flowchart: